Barbers Point


In response to demands of the Korean War, a new VU-1 was established at Barbers Point on 20 July 1951. VU-1 provided training and support for fleet units in the 14th Naval District. The history of VU-1 will be forever and integral part of the history of Barbers Point Naval Air Station. Closed in 19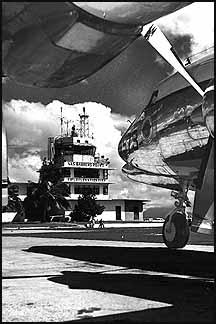 99, a short history Barbers Point Naval Air Station needs to and deserves to be included in the history of Utility Squadron One. Base construction and expansion was under way when the Japanese attacked Pearl Harbor on Dec, 7, 1941. Nine of the air station's 11 Wildcats were left in shambles by Japanese fighters. Nineteen of 32 scout bombers and six utility aircraft were lost. Only partially completed, Barbers Point Naval Air Station was commissioned April 15, 1942. The air station is named after Capt. Henry Barber, whose 100-foot brig Arthur ran aground in 1796 near a tract of land on the southwestern point of Oahu known by the Hawaiians as Kalaeloa, or "long cape or headland."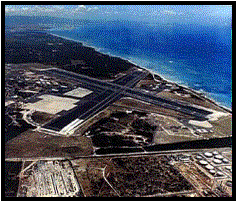 Barbers Point Naval Air Station (NAS) is located on the island of Oahu, 13miles west of Honolulu, Hawaii. The main base encompasses approximately 3,700 acres on the leeward coast of Oahu. Aviation activities began at Barbers Point in the 1930's. Originally, an emergency landing field, with the added requirements from World War II (WWII), it quickly grew and NAS Barbers Point was completed in 1943.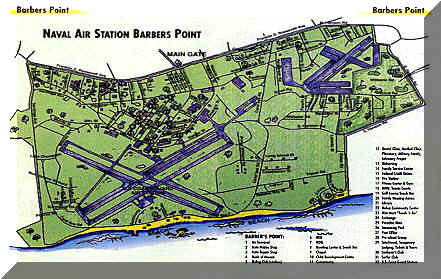 EARLY DAYS
Miscellaneous Base Photos
The Barbers Point facility has long, colorful history
Barbers Point Naval Air Station, an important element of Hawaii's military community, will close after 57 years of service (June 6, 1999). However, the area has a long and colorful history:
Oct. 31, 1796: Henry Barber, British sea captain, shipwrecks his 100-foot brig Arthur at Kalaeloa. In the 1930s, the Navy leases 3,000 square foot parcel from Campbell Estate to moor its dirigible, Akron. Campbell's land purchases included 41,000 acres of dry, barren Ewa land which he bought in 1877 for $95,000. Many critics scoffed at the doubtful value of his purchase. But Campbell envisioned supplying the arid area with water and commissioned California well-driller James Ashley to drill a well on his Ewa ranch. In 1879, Ashley drilled Hawaii's first artesian well. James Campbell's vision had made it possible for Hawaii's people to grow sugar cane on the drylands of the Ewa Plain. The well also uncovered a vast pure water reserve that to this day provides the Pearl Harbor and Honolulu areas with water. The site of the well is marked by a stone monument and plaque on Fort Weaver Road, across West Loch Fairways.
1940: The Navy purchases 3,500 acres from Campbell Estate for the Ewa Marine Corps Air Station.
Dec. 7, 1941: The Japanese attack Oahu and destroy 9 of 11 Wildcats, 19 of 32 Scout bombers and six utility aircraft at the Ewa Marine Corps Air Station.
April 15, 1942: The Navy commissions Barbers Point Naval Air Station.
1949: Ewa Marine Corps Air Station was incorporated into Barbers Point NAS.
1993: The Base Closure and Realignment Commission decides to close the base.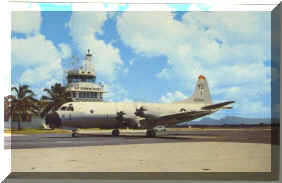 July 1, 1997: The Legislature establishes 2,150 acres as the Kalaeloa Community Development District.
Aug. 31, 1998: State and federal governments agree to transfer 500 acres to Department of Hawaiian Home Lands.
Feb. 16, 1999: The first squadron -- Helicopter AntiSubmarine Squadron 37 -- moves to Marine Corps Base Hawaii at Kaneohe Bay. It is the Navy's only helicopter squadron in Hawaii.
June 6, 1999: The last squadron -- Patrol Squadron 47 -- leaves Barbers Point.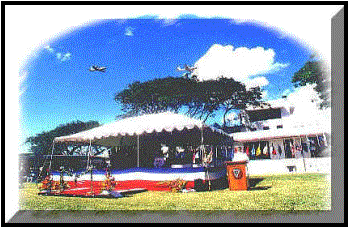 CLOSING THE CHAPTER
NAVAL AIR STATION BARBERS
POINT ENDS 57 YEARS OF SERVICE TO FLEET
Naval Air Station (NAS) Barbers Point, Hawaii, was disestablished July 1 before an audience of 1,500 military and state officials and guests. The air station was officially commissioned in April 1942 and quickly developed into one of the busiest airfields in the world.
During its 57-year history, the base trained carrier pilots for combat, provided logistical support for naval aviation forces throughout the Pacific and supported airborne early warning and antisubmarine patrol operations. "After nearly six decades of service to America, Barbers Point stands down, leaving behind powerful memories of service and sacrifice," said Rear Adm. John W. Townes III, Commander, Navy Region Hawaii,
"It is good to remember this legacy as we close the Navy chapter here."NAS Barbers Point was placed on the Base Realignment and Closure list in 1993. Operational departments and units on the base, including Patrol and Reconnaissance Force, U.S. Pacific Fleet, four P-3C Orion squadrons and a helicopter antisubmarine squadron relocated to Marine Corps Base Hawaii at Kaneohe Bay.
"If there is another legacy for which Barbers Point will be known, I hope it is recognition that we were, simply put, good neighbors," said Capt. Robert Kernan, Barbers Pointís final commanding officer. "Those who have been assigned here - both civilian and those in uniform - have always given selflessly of their time and resources to help others and strengthen the community."
The second part of the ceremony was dedicated to the opening of the Kalaeloa Community Development District, the area the Navy turned over to various state agencies for reuse. The Navy will retain 1,100 acres of the base for military housing and family services. Approximately 2,100 acres was transferred to many public benefit agencies, including the Department of Hawaiian Home Lands, the Housing and Community Development Corporation of Hawaii, the Hawaii Department of Education, and the City and County Department of Parks and Recreation.
As part of the turnover, the public will now have access to two-and-a-half miles of beaches, shoreline reefs, surfing sites and ironwood forests. The Honolulu Department of Parks and Recreation will take over most of the shoreline, 44 acres in beach and parkland, 71 acres in nearby campgrounds and comfort stations. Part of the coastline ó White Plains and Nimitz beaches - will be kept and maintained by the Navy, but will be accessible to the public.
BARBER'S POINT NAS DISESTABLISHMENT
CEREMONY PHOTOS
July 1, 1999: Military gates to close.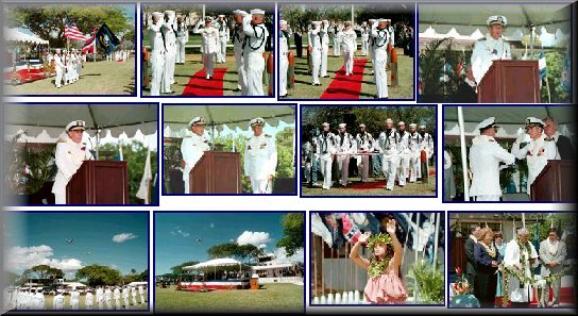 All photos Fleet Imaging Command Pacific (02SEP99)
Past Tenant Commands
Commander, Barrier Force, Pacific (CBFP)
Commander, Fleet Air Hawaii (CFAH)
Commander, Patrol Wing TWO (CPW-2)
Airborne Early Warning Barrier Squadron TWO (VPW-2)
Airborne Early Warning Wing, Pacific (AEWWP)
Aviation Physiology Training Unit/Aviation Survival Training Center
Fleet Aircraft Carrier Service Unit TWO (CASU-2)
Fleet Carrier Unit TWO (FACU-2)
Fleet Air Wing TWO (FAW-2)
Fleet Air Reconnaissance Squadron THREE (VQ-3)
Fleet Tactical Support Squadron TWENTY-ONE (VR-21)
Fleet Utility/Composite Squadron ONE (VU-1/VC-1)
Patrol Squadron ONE (VP-1)
Patrol Squadron SIX (VP-6)
Patrol Squadron SEVENTEEN (VP-17)
Patrol Squadron TWENTY-TWO (VP-22)
Patrol Squadron TWENTY-EIGHT (VP-28)
B Company, 214 Aviation Regiment
Tenant Commands at Station Closure
Commander, Patrol Wings U.S. Pacific Fleet (CPWP)
Branch Medical Clinic
Branch Dental Clinic
Fleet Aviation Specialized Operations Training Group Detachment (FASO)
Fleet Imaging Center Pacific (FICP)
Helicopter Anti-Submarine Sqd. (Light) THIRTY-SEVEN (HSL-37)
Naval Aviation Engineering Service Unit Detachment (NAESU)
Naval Security Group Detachment (NSGD)
Naval Pacific Meteorology and Oceanography Detachment (NAVPACMETOC DET)
Patrol Squadron FOUR (VP-4)
Patrol Squadron NINE (VP-9)
Patrol Squadron FORTY-SEVEN (VP-47)
Patrol Squadron Special Projects Unit TWO (VPU-2)
297th Air Traffic Control Squadron (ATCS)
U.S. Coast Guard Air Station Barbers Point (CGAS)
Barbers Point Naval Air Station
closing after 57 years
(1942-1999)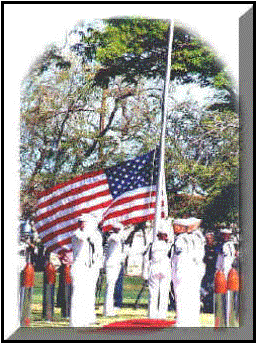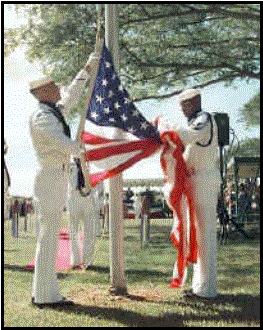 The 1st Class Association awards a flag that was flown over NAS Barbers Point.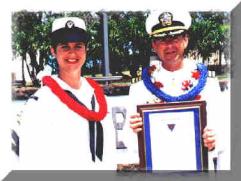 The last P3 Orions leave NAS Barbers Point
Among all the states, Hawaii has one of the biggest military populations. A number of large, permanent military bases of strategic importance are located here: Pearl Harbor Naval Base, Schofield Army Barracks, Hickam Air Force Base, Barbers Point Naval Air Station (now Kalaeloa
Airport) , Camp H.M. Smith, Wheeler Air Force Base, Fort Shafter, Marine Corps Air Station Kaneohe Bay, and U.S. Coast Guard facilities at Sand Island. Active duty military population stands at about 36,400, with an additional 42,000 family members. There are an estimated 13,000 military retirees living in Hawaii.
Barbers Point Naval Air Station - 2000
Various groups now occupy the Barbers Point station, which includes 3,700 acres and three runways. Current tenants are the Fleet Maritime Patrol Air Patrol, antisubmarine warfare squadrons, Coast Guard, Hawaii Air National Guard and Navy housing (1,090 units).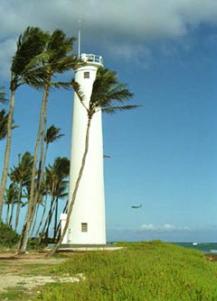 Oahu temperature and time!